83photostudio photobooth
Jasa photobooth terbaik jakarta
Updated: Sep 20
Merayakan hari hari special, kita sering dibingungkan dengan berbagai macam kegiatan yang harus diisi. Kurang lebih untuk membuat hari spesialmu agar bisa di ingat para tamu undangan. Ada berbagai macam cara yang bisa membuat tamu undangan merasa puas dengan hari spesialmu. Mari simak apa yang membuat hari spesialmu makin spesial.
- (Celebrating special days, we are often confused by various kinds of activities that must be filled. More or less to make your special day so that guests can remember. There are various ways that can make invited guests feel satisfied with your special day. Let's see what things that makes your special day even more special.)
Jasa photobooth terbaik jakarta
Pelayanan adalah faktor utama yang sangat bisa membuat acaramu berkesan. Terlebih jika para tamu undangan merasa bahwa dirinya di istimewakan, tentu akan membawa nama baik kamu serta seluruh partner yang ikut serta dalam persiapan dan berjalannya acara spesialmu.
-
(Service is the main factor that can really make your show memorable. Especially if the invited guests feel that they are special, they will certainly carry the good name of you and all partners who participated in the preparation and running of your special event.)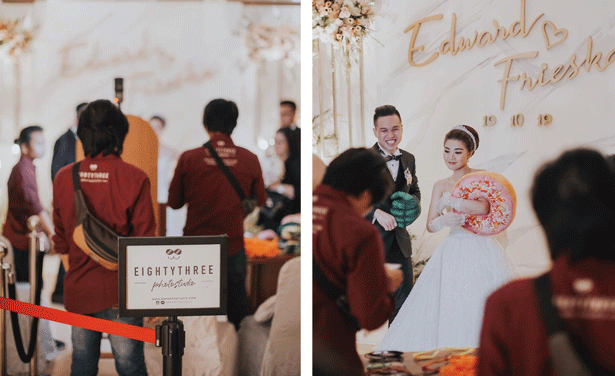 2. Dekorasi
Dekorasi membuat para tamu undangan semakin terkesan saat berada di acaramu. Apalagi dengan dekorasi yang membuat pandangan teduh, tentu siapapun yang melihat akan terpukau. Dengan dekorasi yang simpel dan unik juga bisa membuat hari spesialmu semakin diingat dan berkesan.
-
(The decorations make the invited guests even more impressed while on your show. Especially with decorations that make a beutiful view, of course anyone who sees will be amazed. With a simple and unique decoration also can make your special day more memorable and unfogotable.)
3. Photobooth.
Akhir-akhir ini, banyak sekali dalam suatu acara yang menggunakan photobooth dan menjadi suatu hal yang wajib ada. Tidak boleh absen, seolah memang ini salah satu hal yang paling diminati oleh para tamu undangan. Telebih kalau Photoboothnya berkualitas dan unik, tentu dapat langsung memberikan kesan tak terlupakan dalam acara spesial.
-
(In this time, a lot of events that use photobooth and become something that must be there. It should not be absent, as if this is indeed one of the things that are most sought after by invited guests. Moreover, if Photobooth is of high quality and unique, it certainly can immediately give an unforgettable impression in a special event.)
Photobooth yang unik membuat siapapun mengidam-idamkan hadir ke dalam acara spesialmu. 83photostudio menyediakan berbagai tipe photo booth yang pastinya sealur dengan perkembangan jaman serta megnhasilkan kulitas foto yang bagus. Classic booth, Probooth, Mega booth, Time Freeze Booth, Haluu Booth adalah tipe photo booth yang dimiliki oleh 83photostudio. Dengan style mesin yang unik dan kualitas foto yang bagus, 83photostudio tentu tidak perlu di ragukan lagi untuk menjadi pemeran utama dalam hal dokumentasi di bidang photo booth dalam setiap acara spesialmu.Untuk lebih lanjut kami menyediakan akses online yang bisa kalian lihat melalui akun instagram @83photostudio dan website di www.83photostudio.com (Jasa photo booth terbaik jakarta)
-
(Unique Photobooth makes anyone interest to attend your special event. 83photostudio provides various types of photo booths that are certainly in line with the changing times and produce good quality photos. Classic booth, Probooth, Mega booth, Time Freeze Booth, Haluu Booth is a type of photo booth owned by 83photostudio. With a unique machine style and good photo quality, 83photostudio certainly doesn't need to be doubted to become the main actor in terms of documentation in the photo booth field in each of your special events.For further we provide online access that you can see through your Instagram account @83photostudio and the website at www.83photostudio.com) Jasa photo booth terbaik jakarta
Jasa photobooth terbaik jakarta
#photoboothjakarta #photobooth #uniquephotobooth #83photostudio #photoboothunik #photoboothterunik #photoboothindonesia #photoboothbali #photoboothbandung #photoboothbekasi #photoboothbogor #photoboothtangerang #photoboothdepok #photocorner #photoinstant #uniquephotobooth #photoboothwedding #photoboothsweetseventeen #photobooth17th #souvenirwedding #souvenirulangtahun #photobooth180 #photobooth360 #photocollage #photostrips #photostripsmurah #photostripsjkt #photostripsjakarta #photostripsbali #photostripstangerang #photostripsbogor #photostripsbali #photostripscibubur